INVESTOR INFORMATION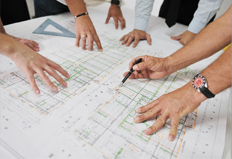 OUR STRATEGY
Midland Properties focuses primarily on well-located assets across the USA that have been impaired by prior mismanagement, inadequate capitalization, economic dislocation, and other market inefficiencies. This allows us to acquire assets at discounted values relative to replacement cost, comparable market rental rates and sales.We then aim to recapitalize and reposition our assets by aggressively leasing and renovating the properties, with the aim of making them attractive to institutional participants in the real estate market. Specific examples of value enhancement include but are not limited to, strategic capital investment in the redevelopment of a property, aggressive marketing to the most likely tenants and the repositioning of projects to enhance their leasing desirability. Because of the size of our company we tend to move swiftly on the right opportunity.
RISK MANAGEMENT
The commercial property business is inherently cyclical. We mitigate the risks through acquiring and developing only premium properties as defined by their location, physical qualities, and most importantly, their appeal to quality tenants. With a combination of hard metrics and checks, in addition to decades of experience we will reject any project whose downside is not significantly balanced by an exponentially greater upside. We aim to provide uality retail locations with reasonable rental rates and long term stabilized cash flow for our company and investors through all phases of the business cycle.
To maximize the sustainability of the cash flow from the assets, our asset management team maintains strong tenant relationships, allowing us deep insight into their needs and growth plans, and sign leases with contractual rental increases for the duration of the lease. This focus on quality and cash flow sustainability in turn allows us to apply financing strategies which limit the potential impact of any cash flow erosion of an individual asset.
When assets reach a level of maturity and capital redeployment is seen as a greater opportunity to enhance returns, Midland Properties will sell or refinance the asset to generate capital for reallocation to higher-yielding opportunities. Midland's key metric, which guides all of our investment activities, is return on capital deployed. We move quickly and thoroughly to ensure that we keep it at the highest level possible.
Contact Us