INVESTOR INFORMATION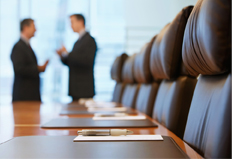 OUR TEAM
MARK WEISS
Chief Executive Officer
As CEO, Mark is responsible for developing and implementing Midland Properties strategic initiatives and for management of all facets of Midland Properties operations. He is charged with overseeing Midland Properties portfolio, management, underwriting and investor relations. In this capacity, he plays a key role in creating and implementing investment strategies. Mark earned a MS in Real Estate from New York University. His career in real estate spans more than 30 years with extensive experience in asset and portfolio management, acquisitions, dispositions and operations. His experience includes all institutional property types, including office, industrial, residential and retail.
SAM LICHTENSTEIN
Vice President of Acquisitions and Management
Sam is responsible for overseeing all activities in connection with a diversified national portfolio of commercial properties, including acquisitions, asset management and dispositions. His astute property management and leasing skills have resulted in increased value of our properties. Sam earned an MS degree in Accounting from Fairleigh Dickinson University. Prior to joining Midland Properties in 2012, Sam's experience included public accounting, consulting and property management. Rehab of distressed assets is another facet of Sam's expertise.
Mickey Taillard
Vice President of Investment Strategy
Mickey is responsible for Midland Properties real estate finance activities including investment organization, underwriting and servicing of commercial mortgage loans. He hasextensive experience in asset management and dispositions. Mickey opened our Miami, Florida's office in 2008, and was previously a member of our New York Division, in which he worked for several years. Mickey plays a key role in creating and implementing investment strategies on behalf of our clients.
Jacob W.
Financial Coordinator
In 2002, after a half century working in his own private business, Jacob joined our company bringing a new element of expertise to our financial department. Jacobs experience as a proprietor in the private business sector and his interpersonal relationships plays a vital role in creating an entrepreneurial environment. He is responsible for overseeing internal accounts, assets, liabilities, equity, income, and expenses. He oversees all financial transactions made by customers with the company. Jacobs's proficiency in his responsibilities allows us to use our resources in other departments, enabling our company to grow.
Eli W.
Marketing and Project Management
Eli's experience in marketing helps us position ourselves effectively in the marketplace, creating new business ventures, increasing leasing activity or sales and increase customer loyalty through the power of creative, effective, advertising and marketing. Eli loves what he does and is passionate about delivering results for the company. We are glad to have him aboard our team. There have been many national tenants attracted to our properties since Eli has joined our company.
Suri
Interior Designer
Suri is our in house designer, whose invaluable talents enhance our property's desirability, thereby maximizing the potential value of the property. Suri runs her own company and is one of New York's most distinctive, sought-after creators of refreshing elegance. Her designer signature is a bold embrace of pattern, color and texture, all held in exquisite balance. She has enlivened exclusive residences and offices in the tri-state area that resulted in gracious, welcoming interiors that express Suri's special alchemy of refinement and livability.
Michele M.
Director of Communications
Michele manages all the administrative details of running the communication department. She supports our organization using a variety of project management, communication and organizational skills. She interacts extensively with the general public, vendors, clients, investors and any other person or group that the CEO is in contact with. Michele juggles many diverse office duties that require a higher degree of business acumen. Included in her responsibilities are managing budgets and bookkeeping. Michele's talents greatly support the smooth running of our company.
Contact Us